If I had a nickel for every wacky theory that came my way...
"Giant Coconut Crabs with Claws the Size of Texas likely Ate Her Remains!"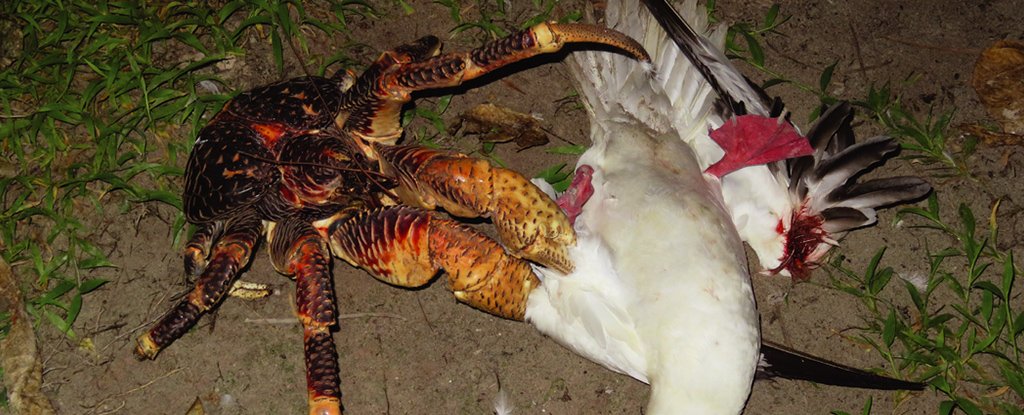 Cranky big crab.
This is the latest twist on a twist. In July Tighar reported that their cadaver dogs had found human remains. In June they were reporting that coconut crabs were threatening their cadaver dogs. Couple of days ago, oops, the body must have been dragged off by crabs.
Um... ok. Yes, we've all seen the video of a coconut crab executing a pesky seabird. Even that "science alert" news got the headline "Giant Crab Eats Innocent Seabird!" (As opposed to "Guilty Seabird Taken Down by Law Abiding Crab!" Who knows if the seabird is innocent? Maybe he was stealing from the crab... but I digress...)
Yes, I've seen Coconut Crabs. In the Marianas as well. In fact on Saipan in particular.
Why is that important?
Well, over 200 eyewitnesses claim that they saw Amelia Earhart, Fred Noonan and the Electra after it disappeared on July 3rd, 1937.
Saw her as a captive on the back of a
Japanese truck in 1944. Parked for 30 minutes
in front of him. "Not something you'd forget."
As these pages note, 15 new eyewitnesses have come forth from a recent trip to Saipan, where we interviewed people who either had relatives who saw her (son of a nurse who treated her, daughter of a mother who washed her clothes) or who claim to have seen her with their own eyes (including an eyewitness who lives in San Jose, and two eyewitnesses who saw her being transported by Japanese soldiers on the back of a truck.)
Saw her on the back of the same truck in 1944 a mile away.
Former Congressman, his father saw her come ashore in 1937
That doesn't include the US Marines who claim they found the Electra in a hanger on Saipan, the ones who claim they saw it flown, the ones who claim that saw it in the hangar, the ones who claim they heard officers talking about "Amelia Earhart's plane" or the ones who claim they saw it taken out to the runway and destroyed and buried by US forces.
Or the US Marine who found her briefcase and passport "dry as a bone."
A US Vet, his dad saw her incarcerated in prison in 1937
None of that matters. Because you see, back in 1940, a British soldier (nameless I guess) claimed he found a skeleton on an island (not uninhabited. Visited frequently by locals for hunting, fishing and other reason, unless you don't consider local islanders as humans) that "was the right size for Amelia Earhart."
Is that with or without shoes?
This army vet went with a Jeep full of GIs to the
airfield to see "Amelia Earhart's airplane" in a hangar.
Same hangar others claim it was in.
Meanwhile, over 200 islanders claim to have seen a number of detailed, corroborated by other islanders events; the Electra coming down in Mili, the Japanese arresting her, the Electra being taken to Jaluit, her being brought with Fred Noonan to Jaluit, put aboard a seaplane and taken to Saipan, the plane, aboard the Koshu taken to Saipan between July 9th and 19th by the Koshu (for the ships records see Tighar.org for those details).
His mom tended to her wounds in the hospital onSaipan.
Then we have islanders who claim to have treated her wounds, islanders who claim to have washed her clothes, who claim to have met her (one was given a trinket), claim to have seen her in prison, claim to have seen her on the back of a truck as late as 1944 (with two US soldiers who had been shot down in early 1944.) We have over 200 people who claim to HAVE SEEN HER.
SAW HER as she was escorted onto Saipan.
Story hasn't changed in 70 years.
Not a skeleton. Not a crab eating a skeleton. The person we know and love as Amelia Earhart. Why people don't believe them is beyond me to understand or comprehend.
Navy vet worked with a stevedore who claimed
he pulled the plane off of Mili.
Simple logic will tell you if "People were making up this story about Amelia for some unknown reason (fame/profit) why haven't other islanders come forward and said the same thing?" Where are the islanders from Tinian, Guam, Okinawa, take your pick coming forward and saying "No! We saw her here! We saw her in a camp! We saw her lounging on a houseboat!" None. No one. Not a single solitary eyewitness.
Bob Wallack found her briefcase. Dry as a bone.
This briefcase. Which another US Marine saw as well.
And both claimed it LOOKED JUST LIKE THIS ONE.
And not any coconut crabs making the same claim either.
If you go to Saipan some day, and I hope you do, you'll see that the island is not over run by them. There are some in the woods, up in the hills, but not running around the island snapping up birds or dead bodies. Wishful thinking perhaps. But none on film yet.
Guarded the Electra for 24 hours. Decoded the message that said
"Why have found Earhart's plane Aslito airfield" in July of 44.
Decoded the message when they decided to fly it. Decoded the message
when they decided to burn it. Went with a friend and WATCHED THE
ELECTRA BURN. Sorry if that bothers people - but take it up
with your government, not me.